We offer two levels of polarization modulation: manual and automated. Our polarization modulators are also available to rent.

Manual polarization modulator (MPM-2P)
Manual polarization rotation allows observations of linear dichroism in constructs with maximum dichroic ratio > ~1.3. To obtain information about linear dichroism, two separate images need to be acquired consecutively, with polarization rotated manually between image acquisitions. About 50% of membrane protein constructs tagged by a fluorescent protein show sufficient linear dichroism to be observed using simple manual polarization rotator. Our polarization rotators come with clear instructions on installation and use. The MPM-2P can be installed on any two-photon microscope with access to the beam path. Installation is simple, and can be performed by any microscope technician or a skilled worker, mindful of safety requirements of working with two-photon lasers. After instalation, the MPM-2P can be safely used by any two-photon microscope user adhering to the general safety rules applying to two-photon microscopy. The MPM-2P comes with our Polaris software that allows processing acquired images and display of linear dichroism as color hues on various scales and in various color combinations. The MPM-2P is also available for rent, on a pay-by-day basis. Rental fees can be applied towards a purchase.
Ask us
about prices.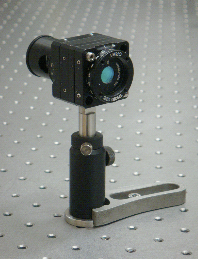 Rapid polarization modulator (RPM-2P)
Our rapid polarization modulator (patented, and patent pending) rotates the excitation beam polarization between acquisition of individual pixels by a two-photon laser scanning microscope. This way,
each pixel is imaged twice, using two different polarizations, within one image. Because information with both polarizations is acquired virtually simultaneously, there are no problems caused by cell movement, and even rapid molecular events can be reliably observed and monitored. In combination with our Polaris+ software, the RPM-2P allows imaging linear dichroism with such sensitivity that linear dichroism can be observed in virtually all sufficiently bright fluorescent protein-tagged membrane protein constructs. The RPM-2P can be installed on virtually any two-photon microscope (as long as it does not rely on polarization-dependent scanning technology such as acousto-optic deflectors; regular scanning mirrors are fine). The RPM-2P can also be installed and successfully operate on microscopes with continuous movement of scanning mirrors. Installation and training will be performed by our technician. The device can then be easily operated by microscope users. The accompanying Polaris+ software allows not only processing of acquired images and display of linear dichroism as color hues on various scales and in various color combinations, but also quantitative measurements of linear dichroism in living cells. The RPM-2P will be officially introduced at the upcoming Neuroscience meeting in Washington D.C. Come see it in action at the booth of Till Photonics! We will be happy to
answer questions and take orders
already now. As with the MPM-2P, the RPM-2P can also be rented, on a per-month basis. Rental fees can be applied towards a purchase.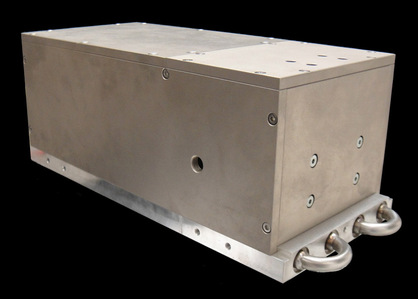 Software for Two-Photon Polarization Microscopy: Polaris/Polaris+

Our polarization modulators come with software that allows facile display and quantitation of linear dichroism: Polaris (with the MPM-2P) and Polaris+ (with the RPM-2P).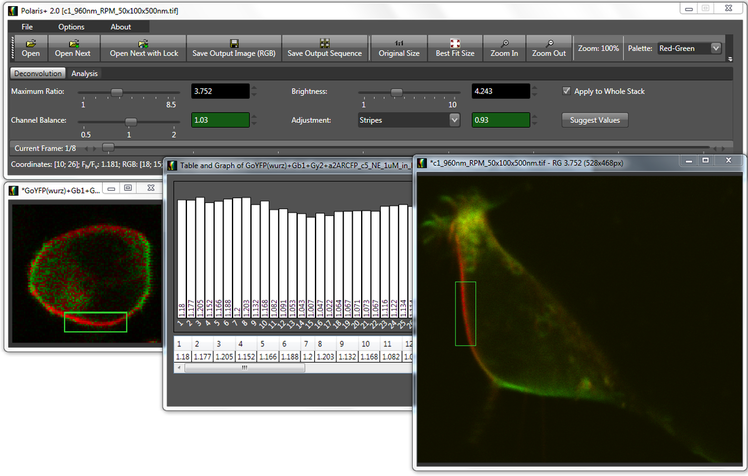 Both versions provide sophisticated, yet easy to use tools that will allow even subtle linear dichroism to be reliably observed and measured. Our software builds on years of expertise in polarization microscopy, and will provide you with both published and proprietary scientifically correct algorithms for image processing and analysis. Both versions of our software allow a wide range of choices for visualizing linear dichroism, including choices suitable for people with color vision impairments. Polaris+ has been designed to streamline processing of time series and z-stacks. Polaris+ takes advantage of our detailed knowledge of all parts of a polarization microscope to deliver results that cannot be matched.

Thanks to our software, you can have a complete polarization microscopy system, capable of delivering publication-quality results, right after installation.